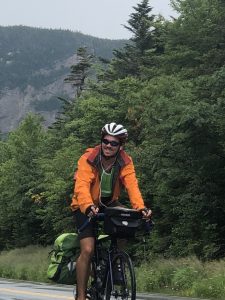 Current or rising 11th or 12th graders who wish to pursue unique, enriching, out-of-the-box learning experiences may apply for financial support in the form of a grant from the Jack Linger Explorers Fund. This fund was established by the Linger family in 2020 in memory of Jack Linger '20, who rode his bicycle across the United States in search of new perspectives on the major issues facing our country, particularly climate change and the environment. He sought to cross literal and figurative divides as he listened to his fellow citizens. His goal was to develop informed opinions as he prepared to cast his first vote.
The Jack Linger Explorers Fund is intended to support a spirit of physical and/or intellectual adventure and the expansion of personal horizons. Grants may be used to cover tuition, materials, travel expenses, professional expertise, or any other costs associated with a given learning experience. The grant may support a summer project or an Independent Study during the school year.
Current Projects (summer and fall 2022)
Amani Diallo '23 will purchase a camera and attend the Carrboro Film Festival as she develops her idea for a short film about a hidden interracial relationship. She remembers being mesmerized by television and movies as a little girl, and characters who looked like her had a special impact. Now, Amani intends to "…give other black women a voice and shed light on a perspective that is oftentimes ignored."
CJ Nwafor '23 will install solar panels in Nigeria this summer through an internship with The Community Research and Development Centre (CREDC). This organization has been working since 2006 to expand access to a safe and healthy environment through renewable energy and energy efficiency. Through this internship, CJ will gain experience with renewable energy as well as spend time with relatives and give back to a community that is important to him.
Miller Roessler '24 will investigate the health and climate effects of vehicle idling at drop-off and pickup locations on the Durham Academy campus. Miller is passionate about making DA more sustainable and excited about the opportunity to design his own study. He will purchase air quality sensors and collect data while working with children in DA Summer. He will share his findings with the community and explore ways we can reduce the impact of idling engines.
How to Apply
Interested students are encouraged to discuss their ideas with the Independent Study Coordinator at any time of year. Funds for 2022-23 have been awarded.
Applications are usually submitted as Google docs shared with the Coordinator, but any format that seems appropriate for the topic is welcome. All applications should include:
title
description of the activities and purposes behind them
anticipated impact on the individual, community, etc.
anticipated expenses and any relevant documentation
faculty advisor if applicable
Selections are made in late April or early May by a committee of Upper School faculty members who are appointed by the Head of School. In evaluating applications, the committee looks for a spirit of physical and/or intellectual adventure, expansion of personal horizons, and potential for positive impact on others.